BuildOrBuy Group Network
[ www.buildorbuy.org | www.buildorbuy.net ]

Reading Mail Headers:

Qualcomm Eudora, Netscape Communicator & Microsoft Outlook Express


How To Turn ON Mail Headers:

Qualcomm Eudora 5.0

Eudora: BLAH BLAH BLAH (Outgoing message option) Icon -
Click this button to expand and display all message headers for this message.

Eudora does a very poor job of telling Users how to find this Icon and where to look!
1.) Open the message by double clicking on the message in question from the list of messages within the IN box!
2.) This active message window shows the "BLAH BLAH BLAH" Icon button 3rd from the left.


Netscape Communicator 4.78 Messenger

Netscape is very straightforward in the use and implementation of this feature. From within the Messenger application window - From the Text Menu Bar, click, View, Headers, All.

BTW: Each of these these messages contained A W32/Klez.eml Virus Variant.

Microsoft Outlook Express

Microsoft is not very clear on this subject either. Reading Mail Headers can become very important in your combat against SPAM & Viruses.

Once you know the ISP from which the offending message originated, send their Domain Administrator the message will ALL Headers intact. They will take it from there. Usually you'll never know what the outcome was. As long as the possible Mail Relaying which allowed this to happen stops, that's all we can hope to accomplish.
Qualcomm Eudora 5.0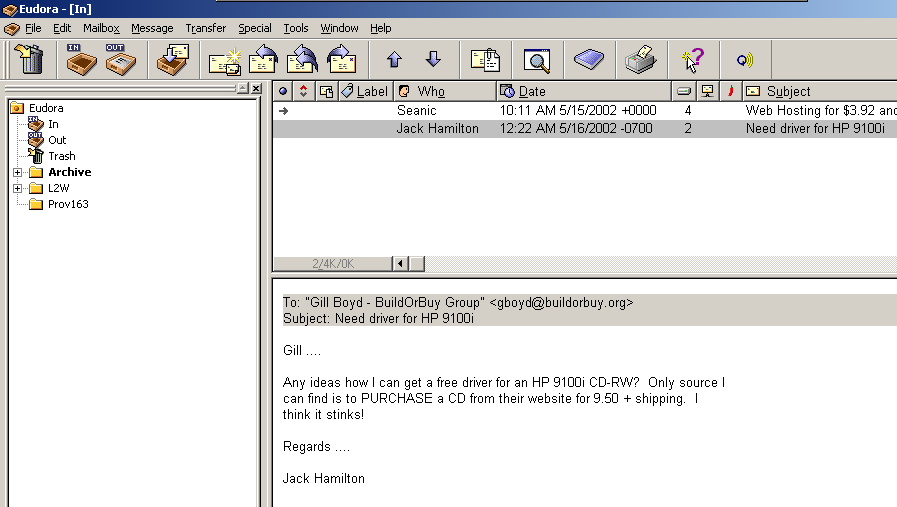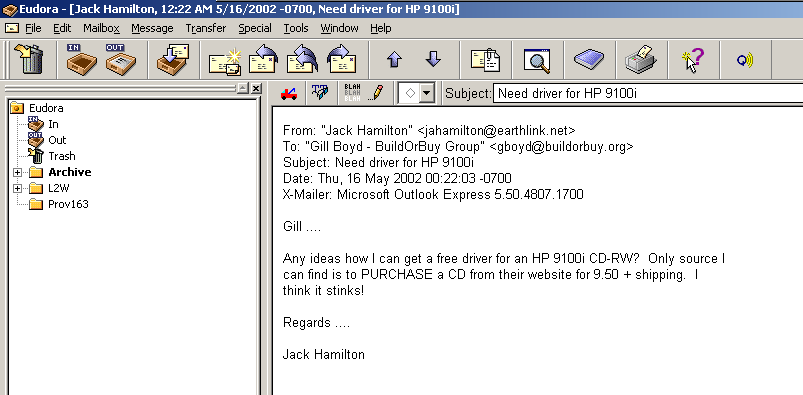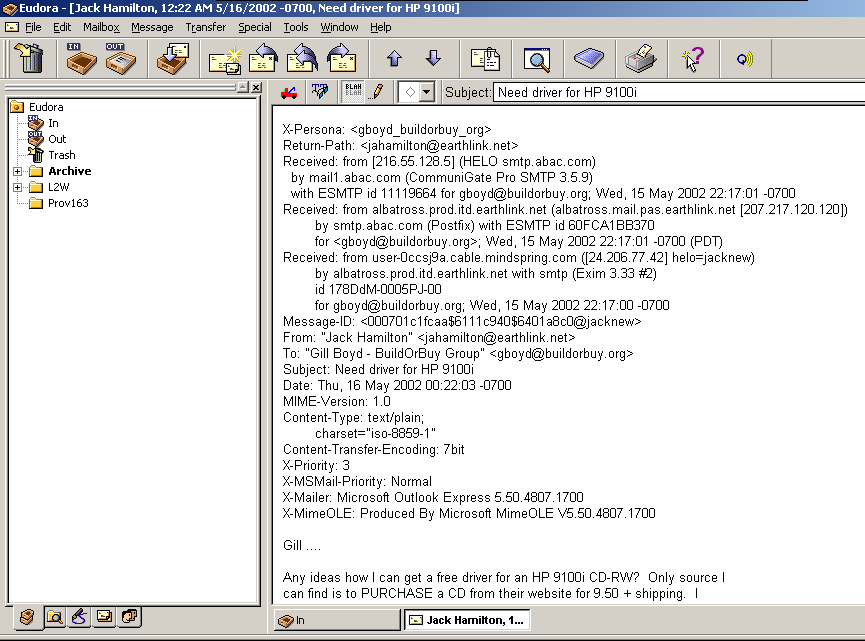 Mail Headers - Netscape Communicator 4.78 Messenger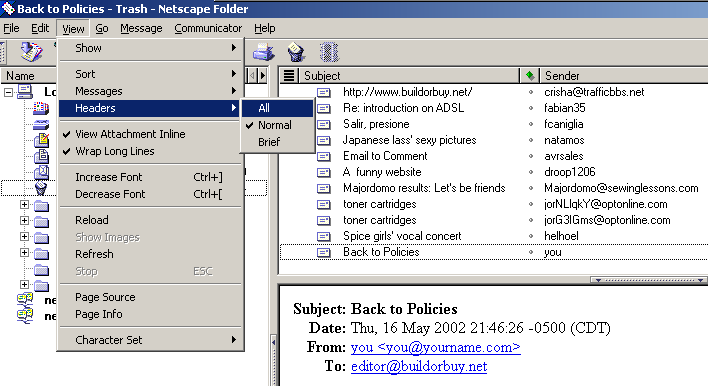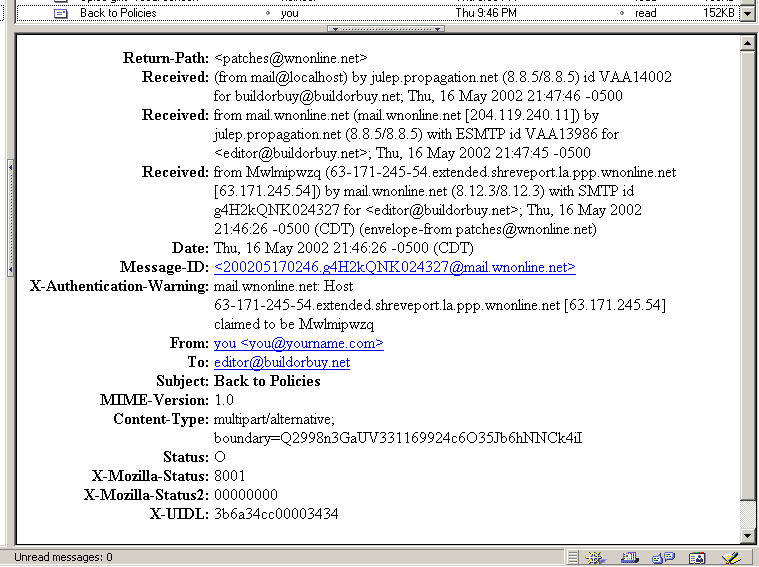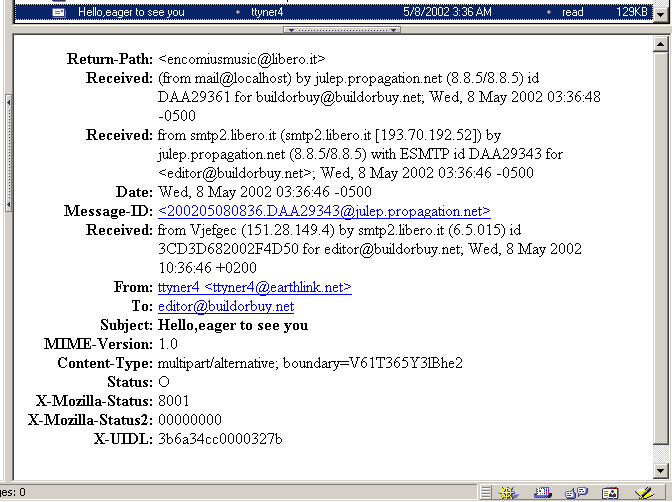 Microsoft Outlook Express
Turn ON Mail Headers - Click, View, All Headers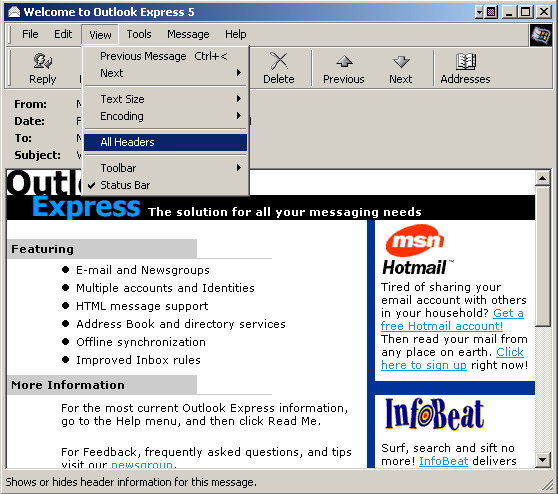 Copyright © 1992, 1994, 1995-97, 2000-2008, BuildOrBuy Group Network News!
Web Development, Gill Boyd & Team - Posted 05/16/2001; Updated 04/26/2008