BuildOrBuy Group Network
[ www.buildorbuy.org | www.buildorbuy.net ]
Need more USB port access? Try this from Larry Trochesset: www.antec-inc.com - Easy USB



Adaptec DuoConnect - 4-port USB 2.0 and 3-port 1394 FireWire combination card for PCs.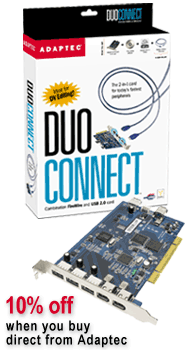 IOGEAR - New 2.5" Hi-Speed USB 2.0 HardDrive & New USB 4-way (4D) Scroll Ball Optical Mouse.


HP DVD+RW: Press Release Hewlett-Packard to Ship Its First Combination DVD+RW-CD-RW Drive (8/20/01)
hp dvd-writer home page - HP DVD-Writer dvd100i

Big Drive Please!
Axion Technologies - UDMA 100 Controllers
| | | | | | |
| --- | --- | --- | --- | --- | --- |
| Description | Product Code | In Stock | Price | Buy | Info |
| PROMISE:FASTTRAK100 TX2,FASTTRAK100 TX2 ULTRA ATA/ 100 RAID CARD,32-BIT,RETAIL BOX,1-YEAR WARRANTY | COPRFT100TX2 | YES | $90.95 | Buy | Info |
| PROMISE:FASTTRAK100 TX2,FASTTRAK100 TX2 ULTRA ATA/ 100 RAID CARD,32BIT,OEM | COPRFT100TXO | YES | $80.95 | Buy | Info |
| PROMISE:ULTRA100 TX2,UDMA 100/66/33 CONTROLLER,PCI ,OEM,1-YEAR WARRANTY | COPRUL10TX2O | YES | $29.95 | Buy | Info |
| PROMISE:ULTRA100 TX2,UDMA 100/66/33 CONTROLLER,PCI ,RETAIL BOX,1-YEAR WARRANTY | COPRUL10TX2R | LIMITED | $33.95 | Buy | Info |

Ultra320 SCSI