Gigabyte's Promise RAID ATA133 Controller Implementation:
GigaByte MotherBoards offer Users the unique ability to utilize the Promise On-Board RAID Controller as either RAID or ATA/133. We have quoted the following from GigaByte's website in its' entirety to help aid during Discussions of the Technology for our BuildOrBuy Readers. GB
Make Promise RAID controller another ATA133 IDE controller...
Unique software Collaborating with Promise PDC 20276 RAID controller chip to deliver IDE RAID support Ultra ATA133 Protocol
Gigabyte had developed unique BIOS and drivers, utilizing the Promise PDC 20276 RAID controller chip, to enable the IDE RAID controller to support Ultra ATA133 protocol for the motherboard. While the whole motherboard industry employ this Promise RAID controller chip sole for the basic RAID function, Gigabyte provides the additional Ultra ATA133 function thus delivering more value to the customer and market as well. Gigabyte, again setting the standard in the industry, is the only one to deliver IDE RAID supporting Ultra ATA133 Protocol.
Unique software provides two ATA133 IDE interface for more expandability
With the developed BIOS and drivers, the IDE RAID that supports Ultra ATA133 protocol supports master/slave combination of IDE devices, including IDE, EIDE, Fast-ATA and Ultra-ATA standards. Therefore, these two IDE connecters can link up to four internal IDE devices such as HDD, CD-ROM and CD-RW. Without extra cost and effort, users can equip more devices and make the best use of Promise RAID controller chip.
Switching through BIOS setting
After the installation of drivers for RAID and ATA133 function, users can easily switch the mode of the Promise Chip between ATA133 and RAID mode during the BIOS setting depend on the devices they equipped.
Products Ready for market
Gigabyte had overcome the limitation of hardware with software and once again proves its solid R&D expertise. Currently, Gigabyte had applied this technique to three of its deluxe products GA-8IRXP, GA-7VRXP, GA-7DXR+ to serve the market. Users who had one of these three products in their desktop computers can download the latest BIOS and drivers as following.
RAID mode -
RAID 0 – Striping
Enhance the access rate by separating data into data block and save in different disks.

RAID 1– Mirroring
Enhance the data security by duplicating data and saving in different disks.

ATA 133 Mode
ATA 133 mode provides two IDE connectors which being able to link to four more IDE device.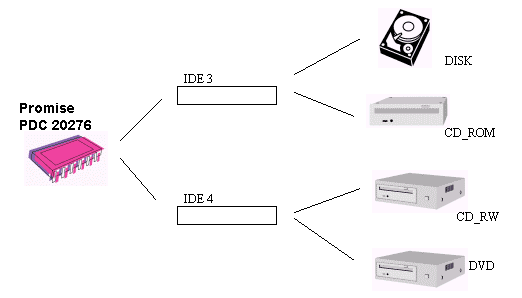 2002 Gigabyte Technology Co., Ltd. All rights reserved.
Gigabyte support AMD Athlon XP CPU BIOS list: Make RAID controller another ATA133 IDE controller