BuildOrBuy News - Disable Windows 2000 Boot O/S Choice

Windows 2000
Purpose of this document: Understanding your options and how they affect you - boot.ini "boot loader" menu.
How do we disable the Windows 2000 Boot O/S Choice Menu when my PC boots? I only have Windows 2000 installed yet I'm getting a Menu with multiple choices.
So you preformatted the HD with something other than the Windows 2000 CD for possibly FAT32? Now your System Boots with a Menu stating 2 O/S choices of: Windows 2000 or Some Other O/S like Win98SE? We suggest reading this in its' entirety before attempting anything mentioned here. We will NOT be responsible for ANYTHING here which might cause you PC NOT to boot properly!!! Deal? Read on...
Step 1 | Step 2 | Step 3 | Step 4 | Step 5 | Step 6 | Step 7 | Step 8 | Step 9 | Step 10
Step 1
Follow The Screens from the Win2000 Desktop:
Right click My Computer, Select Properties.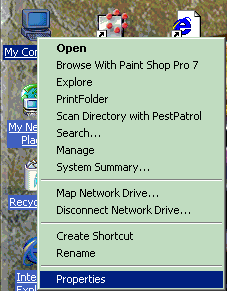 Step 2
From the System Properties, select Advanced Tab.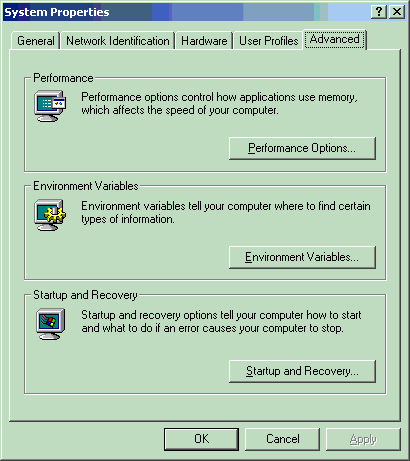 Step 3
Click on Startup and Recovery. From here, select Default operating system. Then select the O/S of choice - "Microsoft windows 2000 Professional" /fastdetect .
Crucial: Remove the checkmark to Display list of operating systems... This is your key to success - Enjoy!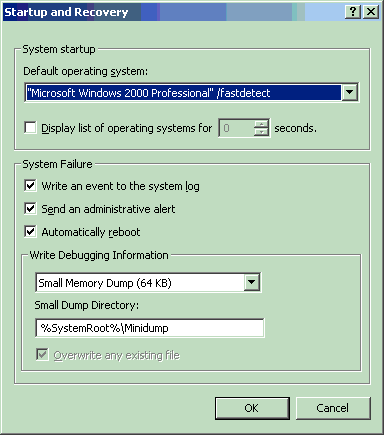 Note: Although your Win2000 Boot.ini file still exists with these options intact as described above, they will not show up during the Boot Strap process. The suggestion above keeps everything intact without concern for harm for novice Users.
Step 4


For the more experienced Windows Power User... (Not for the squeamish!)
boot.ini is in the root of c:\. This is considered a protected operating system file and therefore is hidden from view. To view this file and change the contents: On the Desktop from from My Computer (Windows Explorer) - Select Tools, Folder Options...

Step 5
On the Folder Options Tab, select View Tab. To View, Uncheck - Hide protected operating system files (Recommended). Click on OK. Another Dialogue box pops asking if you're sure you know what you're doing - You decide!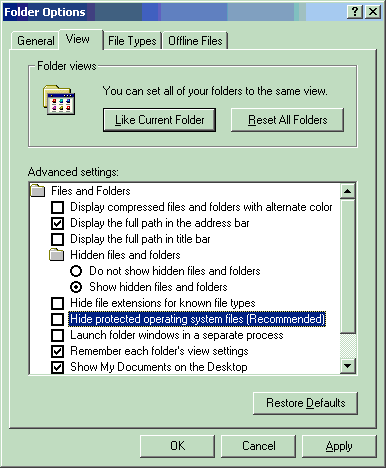 Step 6
Now click on Local Disk (C:) to open and view drive contents.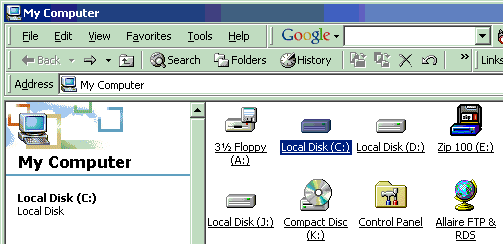 Step 7
Your boot.ini file will now be visible.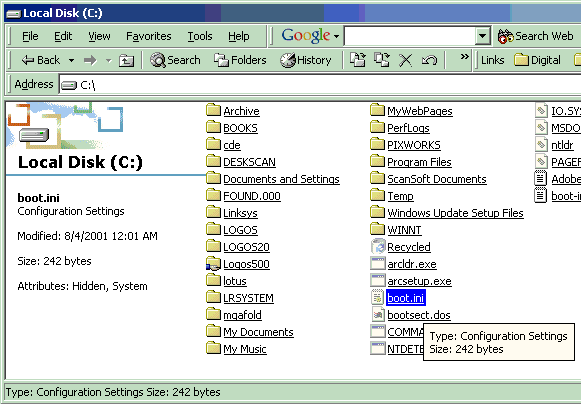 Step 8
To edit boot.ini - Right Click the file, select Properties.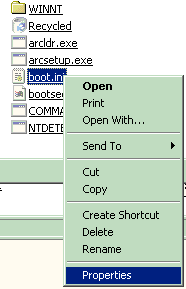 Step 9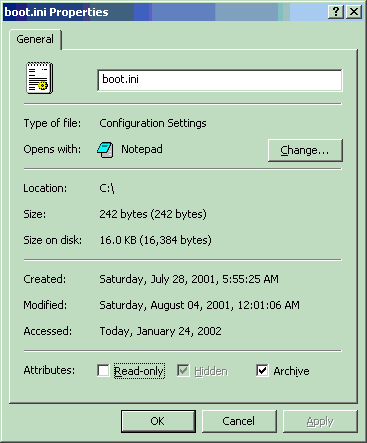 Open with Notepad and Edit or just look to see what's going on. When fished, reverse the process to hide the system files.
Step 10
Typical boot.ini file contents:
[boot loader]
timeout=30
default=multi(0)disk(0)rdisk(0)partition(1)\WINNT
[operating systems]
multi(0)disk(0)rdisk(0)partition(1)\WINNT="Microsoft Windows 2000 Professional" /fastdetect
C:\ = "Unidentified operating system on drive C."
This dual boot phenomena happens for usually one of two reasons -
1.) Dual Boot O/S System
2.) Maybe you formatted your new HD for FAT32? Been there, done that? Windows 2000 will recognize both FAT32 & NTFS. Windows 2000 will NOT format FAT32 even though it will recognized and install on FAT32 partitions. There are pros and cons for either file system depending upon you comfort zone and security requirements. Also, most manufacturer HD Utilities will quick format HD's for FAT32 whereas the Windows 2000 CD which formats NTFS takes forever. Kind of like watching grass grow? OK, so Widows XP Professional solves that problem on both fronts - either file system and quick format.

Note: If you're comfortable Editing Boot.ini file, remove last line above to permanently remove that 2nd O/S Boot choice.
Stick with Windows 2000 until the green wears off of Windows XP Pro and maybe WinXP Pro SP2 appears. Enjoy!