BuildOrBuy Group Network
[ www.buildorbuy.org | www.buildorbuy.net ]
BuildOrBuy -
Icon Editors
Themes
Wallpaper

IconSaver: Save Desktop Icon Arrangements (3/24/2003).
Favicon.ico

Explanation: What It Is & What It Does...

Due to recent Discussions @ our weekly live Build Or Buy Sessions we've added this document for reference. Favicon.ico is just another way to personalize and distinguish a web site from others.

From the User perspective, Favicon.ico has 2 places of usefulness:

1.) Internet Explorer Browser - Bookmark a page with Microsoft IE and notice some sites have a special icon associated with their respective bookmark thus differentiating or branding site A from site B. Think of it as marketing. Favicon.ico does NOT work with Netscape 4.whatever varieties!

The "favicon.ico" files resides in the root of the web site, usually in the same location as the index.html page. There may be references to the "favicon.ico" on the index.html page. This depends upon the individual Web Developer's needs. View Source of this page compared to index.html for reference.

Required HTML Code:
<link rel="shortcut icon" href="favicon.ico">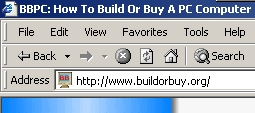 If you want different icons for different pages, try this...
You can use the following LINK tag in the HEAD section of the page to specify a relative or absolute path to the Favicon:

<head>
<link rel="shortcut icon" href="http://www.domain-name.com/myicon.ico">
<title>Page Title</title>
</head>
2.) Desktop Icons - Any icon on your Desktop can be changed to whatever you want. Whoever thought icons would be such a big deal? Yes, there are books on the subject from windows 3.0 days!

To create Desktop Wallpapers (bitmap files), Icons (smaller bitmap pictures), Cursors and Audio / Sound Bites or whole Themes require specific tools for the task. Wallpaper can be BMP, JPG or GIF files. Icons can be ICO, DLL or other file formats. On a Windows PC, audio bytes are usually WAV and sometimes MP3 Files.

Themes - Theme Architect, Desktop Architect


Icons & Cursors - An Icon Editor (FavIcon Editor)

Audio / Sound Bites - Audio Editor.

My Favorite Audio Editor - Sonic Foundry Sound Forge. Some sound card manufacturers have included the scaled back Sound Forge XP version and is most suitable for this type of work.
Depending upon the goal and scope of the project, anything is possible and the repertoire of tools will only grow as your needs and expertise also increase.
Update (1/11/2002):
The On-Line www.Favicon.com Icon Generator - IconForge: Favicon Edition, A SkyLabs Corporation Web Site appears to be back - Great! Love It! Or go to CursorArts below for IconForge (12/12/2002).
www.icon-maker.com: ICON Maker & Graphic Converter (11/25/2002).
Create Your Own Icons: IconEdit32
CursorArts.com: IconForge - Personal experience - Great Icon Editor!
Favicon.com - custom icons for your website: Icon Forge - Favicon.com Edition - Excellent!
IconCool - IconCool Editor
Impact Software - Home of Microangelo: Windows XP icons supported!
Randy's Web Page at RanFo.com - Randy's Freeware Icon Editor
Ms Paint as an icon editor. Anything is possible!
Microsoft's Visual Studio, Icon Editor. Use it if you have it.